Welcome to Spotless Cleaning
ADDRESS
41 Knights Wood
Drogheda
Co. Meath
A92 TPE8




Our current philosophy
At the moment we want to reduce our services to those which we feel the
most comfortable with and provide regular maintenance cleanings for
customers who would like to have certain tasks of their list and wouldn't like to
think about them.
You can set up an account with us and we can set services of your choice
through out the year, whether it would be window cleaning, carpet cleaning,
floor or gutter cleaning you can set it up on autopilot with us and don't have to
think about it any more.
All special occasions can be secured every year without the need of looking
for service last minutes, regardless if it's Christmas, Easter, birthday or yearly
family gathering, you can always have your windows, gutters, carpets or floor
cleaned and ready.
You can pay us by card, bank transfer, direct debit or cash whichever suits
you the best, set up the date and not think of it any more.
We can provide you with quotation and set up required dates throughout the
year, which will repeat every year the same way, dates my vary every year if
they hit weekends but appart from that everything stays the same.
We operate mainly in Drogheda but if the amount of business justifies cost of
travel then we also go to Balbriggan, Dublin or Navan
Our approach to customers
Weather you are corporate body or older pensionieer we always strive to
provide the same quality and go extra mile for you. I treat my employees the
same way I would like to be treated by my employer.
We all like what we do, we are happy at work and it pours onto our customers,
it's not forced politness, we simply like our job and our customers, which
shows every day in numbers of recuring accounts. I
don't hire people which feel forced to come to work or have negative way of
thinking as it spreads and customers also feel it. I wan't all customers to be
able to trust us and have good reasons to be happy when we arrive.
This business is not created to make millions, long time ago I realised that the
happier I am or the happier my employees are the more positive customers
we attract, we shrinked in last 2 years and all it's left are people which
genuinely like what they do. At the moment we are reducing also amount of
services provided to focus on those which we feel the best in.
We want to deliver high quality, convenient and regular service to help
customers looking to have reliable and honest provider
You can simply set up account with us and not have to think of doing certain
jobs anymore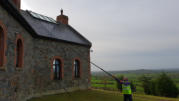 Short history of Spotless Cleaning
Business was esteblished in 2011 in Drogheda, Co. Louth as my solution for
recession and lack of employment. I didn't plan to grow but demand for our
services decided that eventually we have focused on development. We have
grown out of nothing, no investment, no support, no equipment I think the
biggest drive was frustration caused by lack of perspectives. Within a first year
we have gained very good opinion as quality provider specializing in heavy,
difficult cleanings, after tenants, before moving in etc…
We have developed and invested in equipment gradually year after year, bit
by bit, being able to provide more services. More corporate customers started
to discover us and I have used this opportunity to build stable customer base,
employ more staff and take a risk.
After 8 years we have gathered over 4000 customers which 90% of are
recuring, we have experience in many types of cleaning from general
cleaning, through window cleaning, gutter cleaning, carpet and upholstery
cleaning, initial after builders cleanings, power washing and soft washing to
floor maintenance and specialized floor cleaning.
We have super equipment which was gathered over the years, many solutions
for ackward cleanings that other cleaner providers don't have and we have
experiece in many ways of cleaning cause we have never refused difficult jobs
and our learning curve was intensive and full of successfull solutions. It gained
us great reputation and trust of our customers.
We have cleaned warehouse floors that were soaking water in, draining gutter
pipe on a church over 60 ft high from a ground level, cleaning windows
covered with thick layer of limescale, taking of 40 years old window foil for the
3rd of a price provided by competitors and in 3 times shorter time, dusting
warehouses and shops ceiling beams 20 meters high from ground level,
cleaning industrial fridges 600m2 and bigger without cherry picker, cleaning
windows inside buildings hidden between beams and far away from any reach
using only pole and squeege, cleaning high roofs from gound level, power
washing 20 meter high walls from ground level, cleaning carpets which
weren't cleaned for 25 and more years.